We swim yesterday for the first time this year. The water was 78 degrees and the pool enclosure mellowed out at 107. It was great. We don't have a pool heater. Just the enclosure and we also purchased a solar blanket that helped increase the water temperature a little. First swim April 5 2009, not bad for NC and no heater. Thanks for all your help with ordering and installation.
Cheryl & Carrie
Pittsboro, NC
Dealers Found
Back to dealer search
To find a dealer, please, select a state or enter your Zip code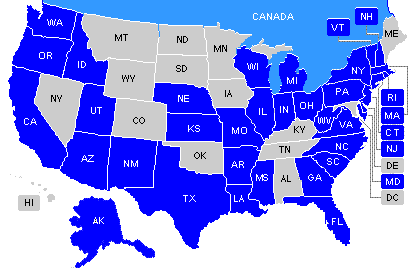 | | |
| --- | --- |
| | - Aqua Shield dealers in USA; |
| | - Aqua Shield dealers in other countries. |
Aqua Shield Inc. Enclosure Systems (ASI) Disclaimer:Aqua Shield Enclosure System (herein referred to as ASI) manufactures enclosures and distributes them through independent dealers. The relationship between ASI and each of its dealers is an independent contractor relationship and shall never be deemed or construed to be an employment, a partnership, a joint venture, an agency or any other similar relationship. No Dealer has any authority of any kind to create any obligation on the part of ASI. ASI has no responsibility or liability whatsoever for or respect to any persons performing any services on the part of the Dealer. Including, without limitation, any installation or repair services, and all such persons performing any such services on the part of the Dealer are and shall remain such, the Dealers employee, contractors or agents. ASI has no right to control or direct any employee, contractors, and/or agents, and no persons performing any services on the part of any Dealer, shall be construed, to be employees, contractors, or agents of ASI.ASI disclaims any liability for any act or omission on behalf of any Dealer. ASI obligation concerning its enclosure system is limited to the AS Limited Warranty. By continuing to use the products and/or services of Aqua Shield Inc Enclosure Systems (ASI) you agree to the terms and conditions of the disclaimer.
See and operate telescopic enclosure models
Promotions!
Click here to begin saving
More details
Need help?
Get advice on choosing right pool enclosure.
Read more!
Renovate My Family™
and © 2004 Fox and its related entities. All rights reserved.
Request 3D simulation software
Significantly reduce swimming pool heating costs
Read more!