In Ground Pool Retractable Enclosure
AquaShield is a US Manufacturer & Designer of retractable swimming pool enclosures, Telescopic Pool Enclosures, Pool Covers, and Sunrooms. Our uniquely patented design will transform your pool or patio into indoor paradise in seconds. Cover your indoor & outdoor pool with a retractable. Aqua Shield providing the best In Ground Pool Retractable Enclosures with reasonable rates
Enhance Your Pool Experience with Aqua Shield's Retractable Pool Enclosures
Aqua Shield takes pool enjoyment to new heights with our state-of-the-art retractable pool enclosures. Our innovative designs provide the ultimate flexibility, allowing you to effortlessly transform your outdoor pool area into an indoor paradise. Explore the endless possibilities and experience the convenience and versatility of our retractable pool enclosures.
Unleash the Benefits of Aqua Shield's Retractable Pool Enclosures
Pool Retractable Enclosure: Our retractable pool enclosures offer a revolutionary solution for pool owners. With the ability to retract the enclosure at your convenience, you can enjoy the open-air experience on sunny days and protect your pool area from harsh weather conditions when needed.
Versatile Pool Enclosures: Aqua Shield's retractable pool enclosures are designed to cater to pools of all shapes and sizes. Whether you have a small backyard pool or a sprawling resort-style oasis, our enclosures can be customized to fit your specific needs and complement your pool area perfectly.
Pools with Retractable Covers: Experience the convenience and functionality of a retractable hard pool cover for your pool. Our enclosures act as a retractable pool covering, offering protection from debris, leaves, and inclement weather. Enjoy a cleaner and safer swimming environment with minimal maintenance.
Removable Pool Fence: At Aqua Shield, safety is our priority. Pair your retractable pool enclosure with a removable pool fence to create an added layer of protection for children and pets. With the combination of a retractable enclosure and a removable pool fence, you can enjoy peace of mind while maintaining a visually appealing pool area.
Remodeling Sunroom: Our pool enclosures retractable provide a perfect solution for remodeling your sunroom. Seamlessly integrate the enclosure into your existing sunroom structure, creating a flexible and adaptable space. Enjoy the best of both worlds by opening up your sunroom to the outdoors or enclosing it for added comfort and protection.
Foldable Pool Cover: Aqua Shield's retractable pool enclosures offer the convenience of pool cover retractable. With the ability to retract the enclosure effortlessly, you can enjoy uninterrupted swimming and poolside activities without the hassle of traditional pool covers.
Retractable Sunrooms: Extend the functionality of your sunroom with our retractable enclosures. Transform your sunroom into a versatile space that can be open to the outdoors on pleasant days or enclosed for privacy and comfort during unfavorable weather conditions. Experience the best of both indoor and outdoor living with Aqua Shield's retractable sunroom.
Welcome to Aqua Shield! Your trusted US Manufacturer and Designer of premium quality, retractable pool enclosures, pool covers, and sunrooms.
Imagine a sunny day by the pool, a warm breeze gently stirring the surface of the water. Now, imagine being able to enjoy that same experience, even when it's raining or snowing outside. At Aqua Shield, we bring this vision to life. Our patented design transforms your outdoor pool into an indoor paradise in mere seconds. With us, you can enjoy the best of both worlds.
Our outdoor pool enclosures are not just a shelter from the elements, they are an extension of your home, a room where memories are made. Whether it's an inground, lap, or a custom-designed pool, we provide high-quality, durable covers for inground pools that not only protect but also add a touch of elegance to your backyard oasis. We also specialize in the design and manufacture of glass pool enclosures.
Our services extend beyond just enclosures. We provide sunroom pool enclosure, too. Immerse yourself in a sun-drenched retreat without stepping outside your home. Our sunroom pool enclosures are an investment in tranquility, bringing the outdoors in, in the most luxurious way possible.
At Aqua Shield, we offer custom made pool covers designed to fit any pool shape or size perfectly. We take pride in our bespoke service, ensuring that every cover we manufacture is a perfect fit for your pool. With Aqua Shield, you can enclose your pool without breaking the bank. Our pool enclosure costs are competitive, and we offer flexible payment options that suit every budget.
Telescopic Enclosure
Our Unique telescopic system allows fresh air to circulate throughout the enclosure, creating a more comfortable environment year around. Enclosures are available in Low, Mid-Size, High, or Ellipse Shield models and come fully assembled. They can be attached to an existing building or be freestanding. Choose from standard sizes or we can customize an enclosure to fit your needs.
Find Out More TODAY
Choose Aqua Shield for Your Retractable Pool Enclosure Needs
Superior Quality: Aqua Shield is renowned for delivering superior quality and craftsmanship. Our retractable pool enclosures are built to last, using premium materials and advanced engineering techniques. Experience peace of mind knowing you have a durable and reliable pool enclosure.
Customization Options: We understand that every pool area is unique. That's why we offer customization options to tailor our retractable enclosures to your specific requirements. From design and size to color and features, we work closely with you to create a personalized solution that meets your needs and complements your outdoor space.
Professional Installation: Our team of skilled professionals ensures a seamless and precise installation process. We handle every aspect of the installation, ensuring your retractable pool enclosure is set up to perfection.
Exceptional Customer Service: At Aqua Shield, we pride ourselves on providing exceptional customer service. Our friendly and knowledgeable team is available to assist you throughout the entire process, from consultation to post-installation support. We strive to exceed your expectations and ensure your complete satisfaction.
Transform Your Pool Area with Aqua Shield's Retractable Pool Enclosures
Unlock the full potential of your pool area with Aqua Shield's retractable pool enclosures. Contact us today to schedule a consultation and explore how our innovative designs can transform your pool experience. Experience the convenience, versatility, and style of Aqua Shield's retractable pool enclosures and elevate your pool enjoyment to new heights.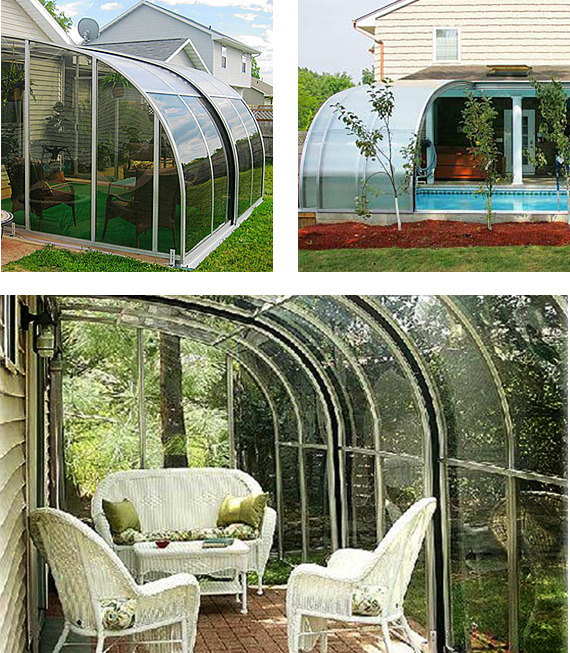 Telescopic (retractable) Sunroom
Aqua Shield's unique patented design allows our Sunroom to cover your pool or patio in seconds, letting you enjoy the benefits of summer all year round. Sunrooms are available in Sunrise and Rainbow models and come fully assembled. Sunrise Model is available in a clear tint polycarbonate glazing. Rainbow Model is available in a twin wall polycarbonate glazing. Choose from standard sizes or we can customize an enclosure to fit your needs.
Find Out More TODAY
We believe in providing the best for our clients, and that's reflected in our products and services. So, dive into the Aqua Shield experience. Let us protect your investment and enhance your lifestyle. Contact us today for a quote. Experience the Aqua Shield difference!
At Aqua Shield, we are more than just a provider of pool covers, we are the architects of your outdoor enjoyment. Our primary mission is to create spaces where you can relax, entertain, and create lasting memories. Our range of pool enclosures is designed with this purpose in mind.
For those who love swimming for fitness, we've got you covered with our specially designed lap pool enclosures. These enclosures not only protect your pool but also provide an environment conducive to workout. Rain or shine, day or night, you can dive in for a few laps, thanks to the cover's ability to enclose your pool seamlessly.
Innovation is at the heart of what we do. The ability to completely enclose a pool is a game-changer in the world of swimming pool ownership. With Aqua Shield, you can enclose your pool at a moment's notice. This feature offers you the flexibility to swim under the stars or shield yourself from the elements.
When it comes to pool enclosures, think of Aqua Shield as your go-to specialist. Whether you're looking for an enclosure for your lap pool, a custom-made cover, or a way to enclose your pool for year-round use, we have the right solution for you.
Our team of experts is on hand to help you explore the options and choose the one that's right for you. So, reach out to us today, and take the first step towards transforming your outdoor pool into an all-weather indoor paradise. At Aqua Shield, we make dreams come true.
Non Retractable Enclosure
For the price of a traditional cover, upgrade to a year round swimming environment. Why limit swimming 3 months when you can swim all year. And save up to 80% on heating. Advantages: 100% Maintenance Free; Wind Rated Up To 146mph; Can Withstand A 2000lb-distributed Load In A Five-foot Radius; Light Weight Design, Stackable On Or Off The Pool; Lifts Up For Easy Pool Access; Will Not Obstruct Your View; Solar Properties Will Increase Water Temperature By Up To 25 Degrees; Free Your Pool From Debris, Insects And Animals; Cover Comes Fully Assembled And Installs In Less Than 2 Hours; Save Money On Chemicals And Water; No Pumping Water Off Cover

Find Out More TODAY
Elevate Your Pool Experience with Aqua Shield's Retractable Pool Covers
Aqua Shield offers a range of retractable pool covers, including the innovative retractable pool dome and retractable pool roofs. Our removable pool covers provide convenience and flexibility, while our telescopic pool covers offer versatile protection. Experience the ultimate pool cover solutions with Aqua Shield.
Transform Your Pool with Aqua Shield's Retractable Pool Covers
Retractable Pool Dome: Discover the convenience and versatility of our retractable pool domes. These innovative covers provide protection while maintaining an open-air atmosphere, allowing you to enjoy your pool in any weather.
Retractable Pool Roofs: Experience the best of both worlds with our retractable pool roofs. These versatile covers can be opened to enjoy the sun or closed to provide shelter and protection from the elements.
Removable Pool Covers: Aqua Shield's removable pool cover offers the flexibility to cover and uncover your pool as needed. Enjoy the convenience of easy installation and removal, providing security and cleanliness for your pool area.
Removable Swimming Pool Covers: Protect your swimming pool with our removable covers. These covers provide a barrier against debris and help maintain water cleanliness, while also allowing for easy removal when it's time for a swim.
Telescopic Pool Covers: Our telescopic pool cover offers adjustable coverage for your pool area. With telescoping pool cover design, you can customize the size and protection level to suit your specific needs.
Experience Convenience and Versatility with Aqua Shield's Pool Covers
Choose Aqua Shield for your retractable and removable pool cover needs. Our expert team will guide you through the selection process, ensuring you find the perfect cover for your pool. Enjoy peace of mind and easy maintenance with Aqua Shield's pool covers.